Motocycle is the name for the first motorized passenger vehicles in the United States. In the 1800's a motorized vehicle was called a "horseless carriage". In 1895 two prominent men in Chicago, Herman Kohlsaat and Frederic Adams, sponsored a contest to rename it. The contest resulted in the name "motocycle". In 1898 "Modern Machinery" magazine had an article about the new vehicles. During this era the first of the engine powered vehicles in the United States were built as a new industry bloomed.
As the new modes of transporation became popular the first motocycle race in the United States was held. In 1895 the Chicago Times-Herald newspaper had a race in the city.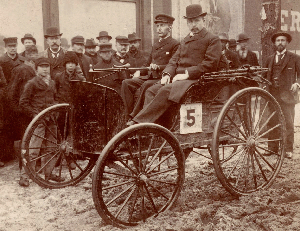 A newspaper article1 about the race was the first widespread use of the word "motocycle". One racer wrote that he intended to enter one with four wheels and a four horsepower engine. It weighed 675 pounds and designed to seat four people plus cargo. It would have sold for about $600.
The prize was $5000. The weather was snow on race day and the course was 54 miles. Speed averaged 7.5 mph. The winner was the Duryea Motor Wagon pictured here. Duryea is also considered the first sucessful gasoline engine motocycle built in th USA.
These vehicles eventually caught on. They became known as automobiles after they got more powerful engines and evolved from the carriage design to the modern "enclosed passenger compartment" design. After that the word was not used in the United States except by the "Indian Motocycle Company". Nowdays Aisa, France and Italy still use the word to describe lightweight, fuel efficient two and three wheel motorized vehicles that are very popular in those regions and countries.
---